Keeping The Oral Tradition Alive Through Social Intercourse & Coffee

Our fabulous coffee, food & desserts can be eaten in or available for take-out. We offer instore dining and outdoor seating. Free high speed WiFi also available during business hours.
A Cold Beer In A Warm Setting
Watch owner Will Herring (aka Willy Beans) talk about his favorite beers in the online video series "Tapside with Willy Beans".
Here at Crossroads we offer many beer & wine options. Below is our current selection on tap:
Visit our Trinkin' page for our complete list of bottles and weekly specials.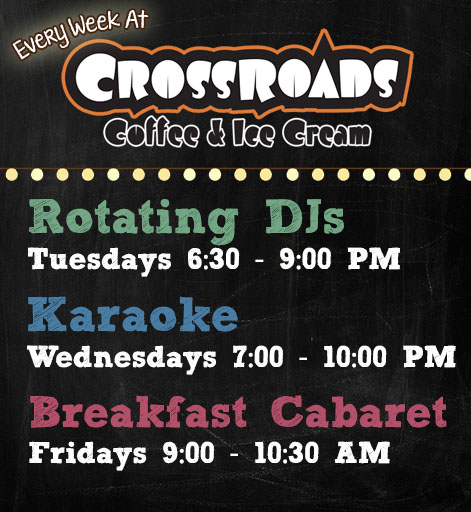 Upcoming Events
Fri

Jul

20

Breakfast Cabaret

Fri Jul 20  » 9:00 am - 10:30 am

Hotel X

Fri Jul 20  » 7:30 pm - 10:00 pm

Sat

Jul

21

Owl Rare and Sacral

Sat Jul 21  » 7:30 pm - 10:00 pm

Sun

Jul

22

Mark Branch

Sun Jul 22  » 5:30 pm - 8:00 pm

Mon

Jul

23

no music mondays!

Mon Jul 23

Tue

Jul

24

RATTAN DJ

Tue Jul 24  » 6:30 pm - 9:00 pm

Wed

Jul

25

Karaoke!

Wed Jul 25  » 7:00 pm - 10:00 pm

Thu

Jul

26

Beans, Bits & Brews

Thu Jul 26  » 8:00 pm - 10:00 pm
Our mission: To deliver a quality food and beverage product with warmth and cheer. To be a welcoming place for all of our neighbors and friends…where folks can meet, laugh and play in a comfortable, relaxed setting.
Our standard: To be people friendly, pet friendly, and ultimately, environmentally friendly. We are your neighbors and strive to make you proud of calling Crossroads your neighborhood café.
Interested in joining the Crossroads community?
Applications are accepted during store hours.
Crossroads Coffee & Ice Cream

Location & Hours
3600 Forest Hill Ave
Richmond, VA 23225
Mon-Tues: 7:00 am – 10:00 pm
Wed-Sat: 7:00 am – 11:00 pm
Sun: 7:00 am – 10:00 pm
Phone number:
804-231-2030
Email:
info@crossroadsrva.com